Hearty, Healthy Minestrone Soup
Guest Post by: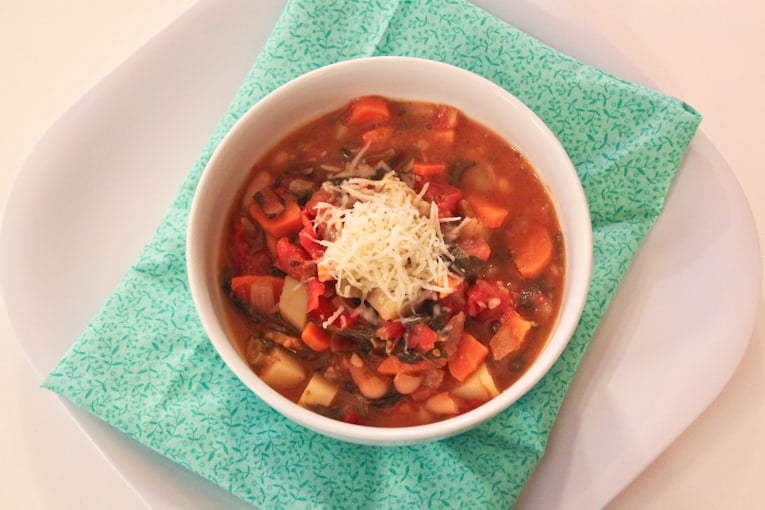 I'm totally in a soup mood these days.
It must be the impending fall weather, the fact that Halloween is two weeks away, and that the evenings are cooler now.
When we were in Italy this summer, we had the most delicious minestrone soup. The kind that just sticks to your bones and warms you from the inside out. So I was excited to see if I could recreate the recipe at home, in a way that would be more of a one-pot meal for me and the husband.
I was inspired by this recipe from FoodNetwork.com, but I made a bunch of modifications to make it veggie-friendly and much healthier.
It turned out to be absolutely delicious!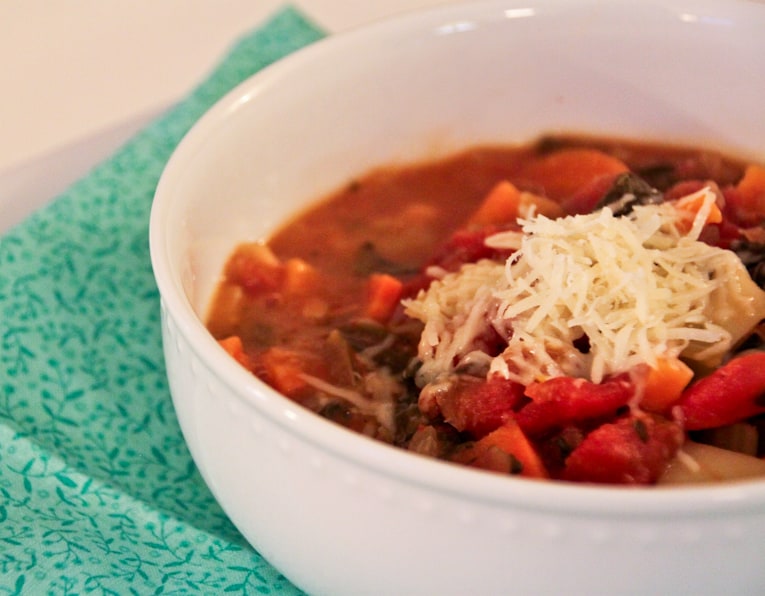 The chunky vegetables and beans gave it a stew-like consistency, and the parmesan cheese (and rind) added a power-punch of flavor.
It was super filling and pretty easy to make too! It had that "slow-cooked-all-day" taste, but it took under an hour to make. Now that's my kind of dinner

The Ingredients
1 tsp olive oil
1 red onion, chopped
2 carrots, peeled, chopped
2 celery stalks, chopped
2-3 garlic cloves, minced
1 pound Swiss chard, stems trimmed, leaves coarsely chopped
1 russet potato, peeled, cubed
1 (14 1/2-ounce) can diced tomatoes
1 fresh rosemary sprig
1 (15-ounce) can cannellini beans, drained, rinsed
28 oz low-sodium vegetable broth
1 ounce piece Parmesan cheese rind
1/2 tsp salt
1/4 tsp pepper
Optional – 1/8 tsp crushed red pepper
Shredded parmesan cheese (for topping – 1 Tbsp per bowl)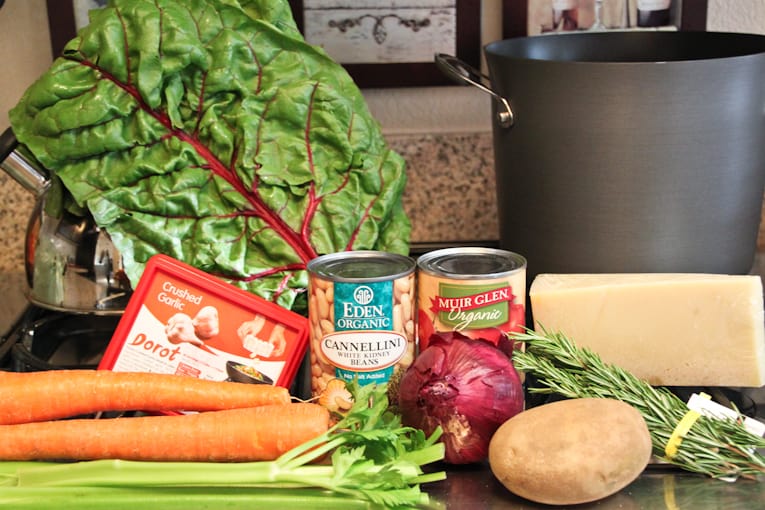 The Directions
Step 1: Heat the oil in a heavy large pot over medium heat. Add the onion, carrots, celery, and garlic. Saute until the onion is translucent, about 10 minutes.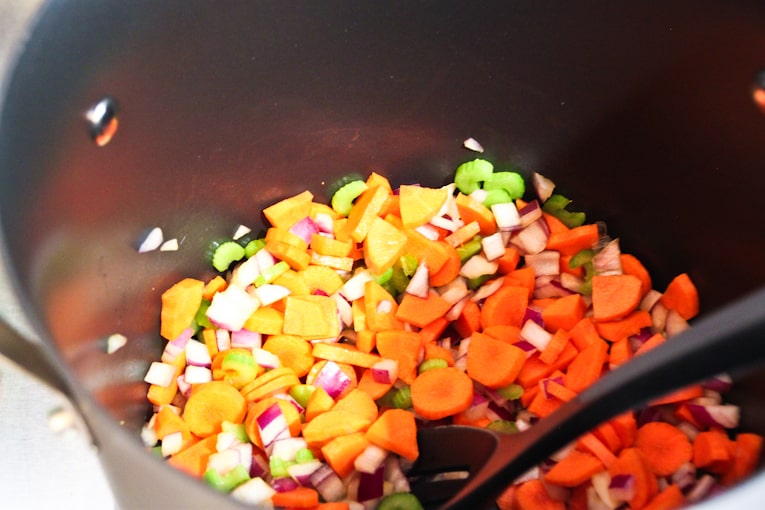 Step 2: Add the Swiss chard and potato; saute for 2 minutes. Add the tomatoes and rosemary sprig. Simmer until the chard is wilted and the tomatoes break down, about 10 minutes.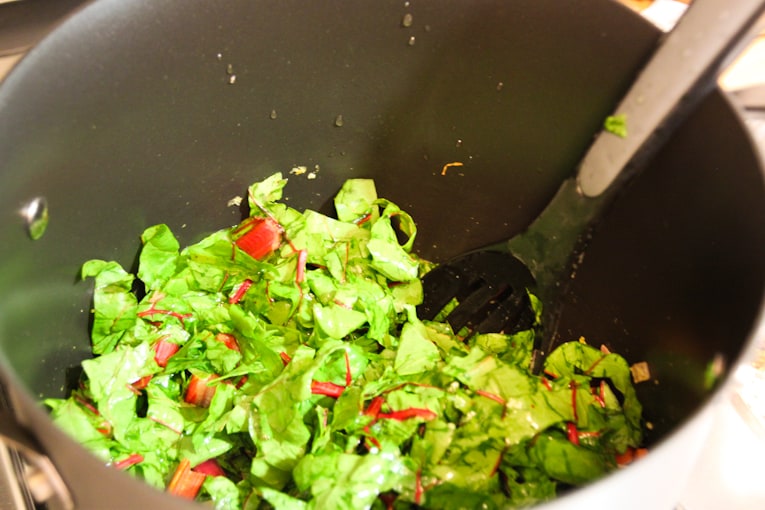 Step 3: Meanwhile, blend 1/2 cup of the beans with 1/2 cup broth in a processor (or mash together with a potato masher) until almost smooth. Add the pureed bean mixture, remaining broth, salt / pepper / spices, and Parmesan cheese rind to the vegetable mixture. Simmer until the potato pieces are tender, stirring occasionally, about 15-20 minutes. Stir in the whole beans and simmer until the beans are heated through and the soup is thick.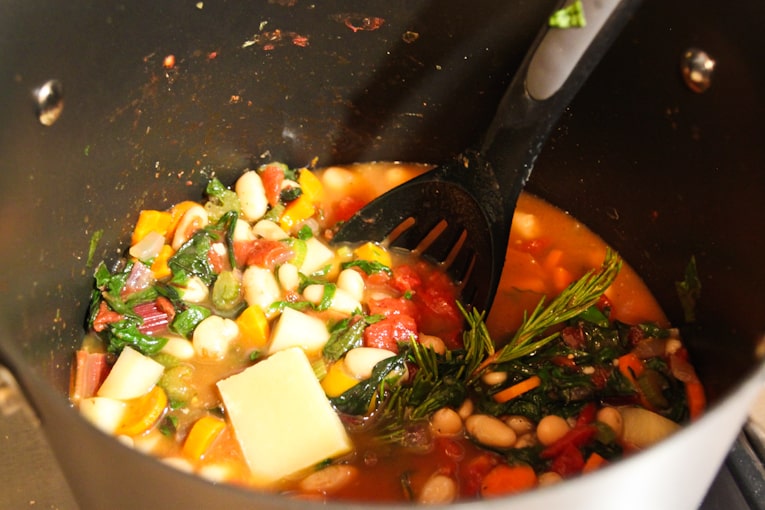 Step 4: Discard Parmesan rind and rosemary sprig (the leaves will have fallen off of the stem) before serving. Top with 1 Tbsp shredded parmesan cheese.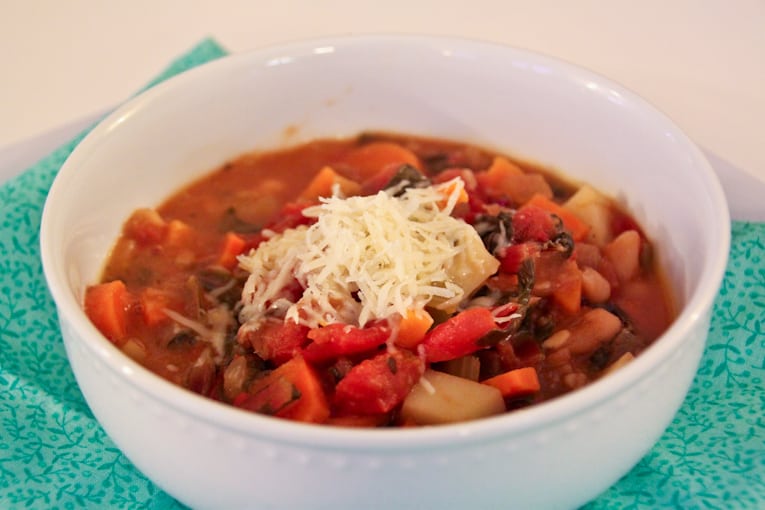 The husband absolutely loved this recipe. And both he and I went back for seconds! We couldn't help ourselves. I loved how packed with veggies and protein it was – it felt like an easy way to sneak more veggies into our diets (with minimal effort!)
The husband said this soup reminded him of Italy, which was all the validation I needed. I hope you enjoy this as much as we did!
---